In October 2017, the Mayo Clinic Office of Health Disparities Research's Native American Research Outreach (NARO) program hosted a conference entitled "A Path toward Better Health among Bemidji Area American Indians." Participants included representatives of six tribal nations, 10 Native health and social service agencies and 16 Mayo Clinic departments. The conference opened discussion between and among Mayo Clinic and the more than a dozen northern plains tribes and tribal and government agencies.
Topics included:
Substance and physical abuse
Chronic diseases and prevention
Mental and family health services
Health policy and services
Telehealth
Improved patient and intersystem communication
Child abuse
Telemedicine in oncology, virtual consultations
Remote coordination and interventions in brain rehabilitation
Minimally disruptive medical practices
Medical and professional education opportunities
Undergraduate education and training opportunities
Patient education resources
Cancer epidemiology, genetics and family studies
Diabetes neuropathy and neuromuscular diseases
Child and adolescent depression and anxiety
Cancer treatment trials
Wesley Petersen, Ph.D., who directs NARO and has built relationships with participating groups in the last decade, says the conference provided an opportunity to find common ground across different values orientations, health beliefs and community health practices. "We had meaningful discussions about the tribes' priority health concerns and how they might be addressed collaboratively through clinical expertise, education and research."
Most of the tribes agreed to participate in an advisory board to further explore their health concerns and how to address them. Next steps include writing proposals, seeking funding to execute projects, and seeking Mayo Clinic staff to travel to Indian communities to better understand local circumstances, resources and constraints.
Dr. Petersen explains that American Indians are an underserved, health disparities population and serving them aligns with true Mayo Clinic values. "When the Mayo brothers initially expressed what has become our primary value, 'The needs of the patient come first,' the focus was on the people of the community and region. An individual's health circumstance was really the only consideration that mattered.
"Going beyond the front door [of Mayo Clinic] is consistent with our values and can benefit the American Indian population's health, allow for the appropriate dissemination of knowledge across diverse populations, and advance scientific and medical knowledge of disease, how those diseases are represented in populations and how they can best be treated across populations."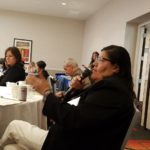 Represented tribes and Native health, research, service and education programs:
Red Lake Nation
White Earth Nation
Lower Sioux Indian Community
Fond du La Band of Lake Superior Chippewa
American Indian Cancer Foundation
Great Lakes Inter-Tribal Council (Great Lakes Inter-Tribal Epidemiology Center)
Bemidji Area Indian Health Service
Leech Lake Band of Ojibwe
Mille lacs Band Ojibwe
Spirit Lake Nation Tribal Health
Ho Chunk Nation Tribal Health
Mayo Clinic addresses underrepresentation of African-Americans in medical research at Healthy Churches 2020
LaPrincess Brewer, M.D., Department of Cardiovascular Medicine at Mayo Clinic's campus in Rochester, Minnesota; and Christopher Pullins, M.D., Department of Family Medicine at Mayo Clinic's campus in Arizona; led a medical education institute at the Healthy Churches 2020 National Conference at Hilton Head, South Carolina, in November. The three-hour session was entitled "Recruiting African-Americans to Participate in Medical Research: Methods, Models and Experiences." Several other principal investigators from Mayo Clinic also presented.
Healthy Churches 2020 is an annual national conference for faith leaders and health professionals to increase and improve the skill and knowledge of church nurses, ministers and others responsible for leading congregational and community health ministries. Healthy Churches 2020 is an initiative of the Balm in Gilead, Incorporated, an organization that promotes health and wellness through outreach to African-American faith communities.
Dr. Brewer coordinates a cardiovascular health and wellness intervention study based in African-American faith communities — Fostering African-American Improvement in Total Health (FAITH!) in the Rochester and Minneapolis/St. Paul, Minnesota, areas. Dr. Pullins coordinates a health program at an African-American congregation in Peoria, Arizona.
Participation of Mayo Clinic investigators in Healthy Churches 2020 was sponsored by the Office of Health Disparities Research, which coordinates the work of Mayo Clinic scientists to define and address health disparities.
---
The above diversity efforts are among several highlighted in a recent article by the Mayo Clinic Alumni Association. Others include:
"New Programs to Recruit Diverse Students"
"Mayo Clinic School of Medicine Adds Diversity-Focused Mentorship Pilot Program in Rochester"
"Mayo Clinic Graduate School of Biomedical Sciences Received NIH Grant Renewal to Train Students" Underrepresented in Science"
Read the full article on the Mayo Clinic Alumni Association website.
Tags: African-American, Christopher Pullins, health disparities, Healthy Churches 2020, LaPrincess Brewer, Mayo Clinic, minority health, Native American, News, news, Top News, Wesley Petersen